Hair removal
IPL hair removal-Men
If waxing, shaving or waxing creams are not enough for your hair, then it is time to try IPL hair removal for radical elimination of unwanted hair.
At Nefer Beauty Salon & Diet Centre,
we apply Photothermolysis – IPL, with the new ELOS technology, for permanent and guaranteed results.
SAFE PERMANENT HAIR REMOVAL, WITH ELOS
IPL hair removal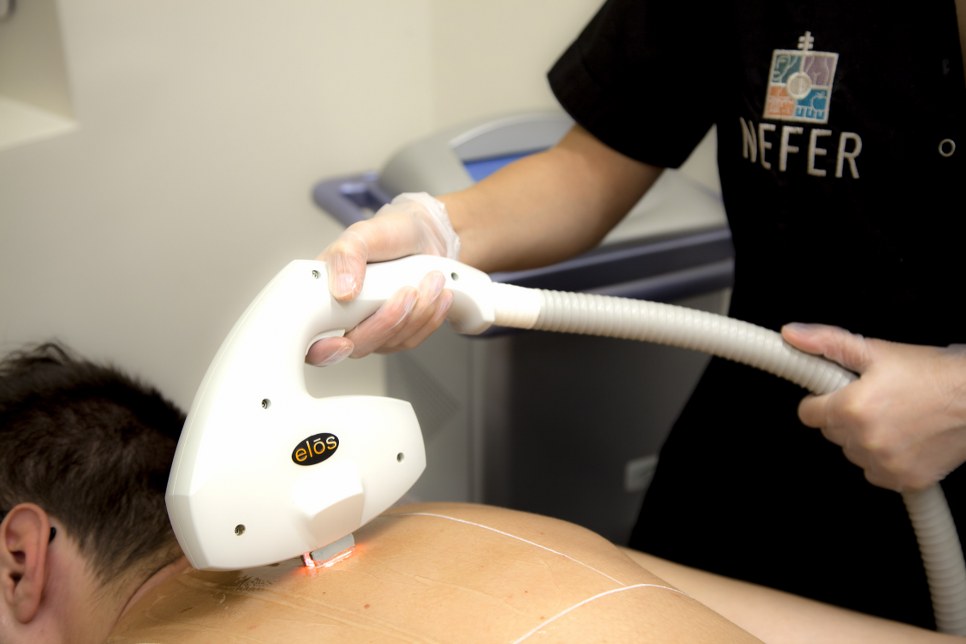 The method:
IPL hair removal is an advanced technological method for permanent removal of hair, which uses a multicolour pulsed light to destroy the hair follicle. At Nefer Beauty Salon & Diet Centre, our specialists and skilled beauticians will choose the appropriate plan for you depending on the colour of your hair, its diameter, the area where it grows and your skin type so that optimum results will be achieved.
IPL hair removal is one of the most safe and painless methods for radical hair removal without the use of a needle. There is only one flat crystal in oblong square shape that touches the skin and releases light. The only thing you feel is slight heat. In addition, no local anaesthesia is required. Due to the large skin area the crystal comes in contact with, this is a very fast method even when it involves your legs or back.
Is it effective?
Clinical studies have shown that IPL Hair Removal reduces unwanted hair growth by 70% – 80%, leaving just the bloom. In addition, it has excellent results for people who developed pseudo-bursitis when they followed other methods. It reduces the redness that is associated with the "winding" of the hair back into the skin.
Are there any side-effects?
There are minimum side-effects, e.g. photo-sensitivity, in people with such tendencies. In addition, it is forbidden for people who take drugs that cause photodermatitis. Moreover, IPL hair removal as well as LASER should be avoided during the summer months because the skin gets tanned.
The appliance used at Nefer Beauty Salon & Diet Centre is the Syneron Aurora that utilises the ELOS technology and it is one of the best available appliances in the market.
See the relevant video about permanent hair removal using the ELOS method 
ELOS PRICE LIST

Minimum session
40
30€
Upper lip
40
30€
Chin
50
40€
Face
70
50€
Cheeks
50
40€
Cheekbones
60
50€