Hair removal
Bee Waxing
At Nefer Beauty Salon & Diet Centre, we apply bee waxing from natural resin, in order to get smooth and soft skin.
It is one of the most popular and affordable temporary hair removal methods that lasts about 1 month.
At Nefer Beauty Salon & Diet Centre, hair removal is done under strict hygiene rules by our qualified personnel, taking all necessary precautions for your safety.
Non-irritating natural resin for waxing
Bee Waxing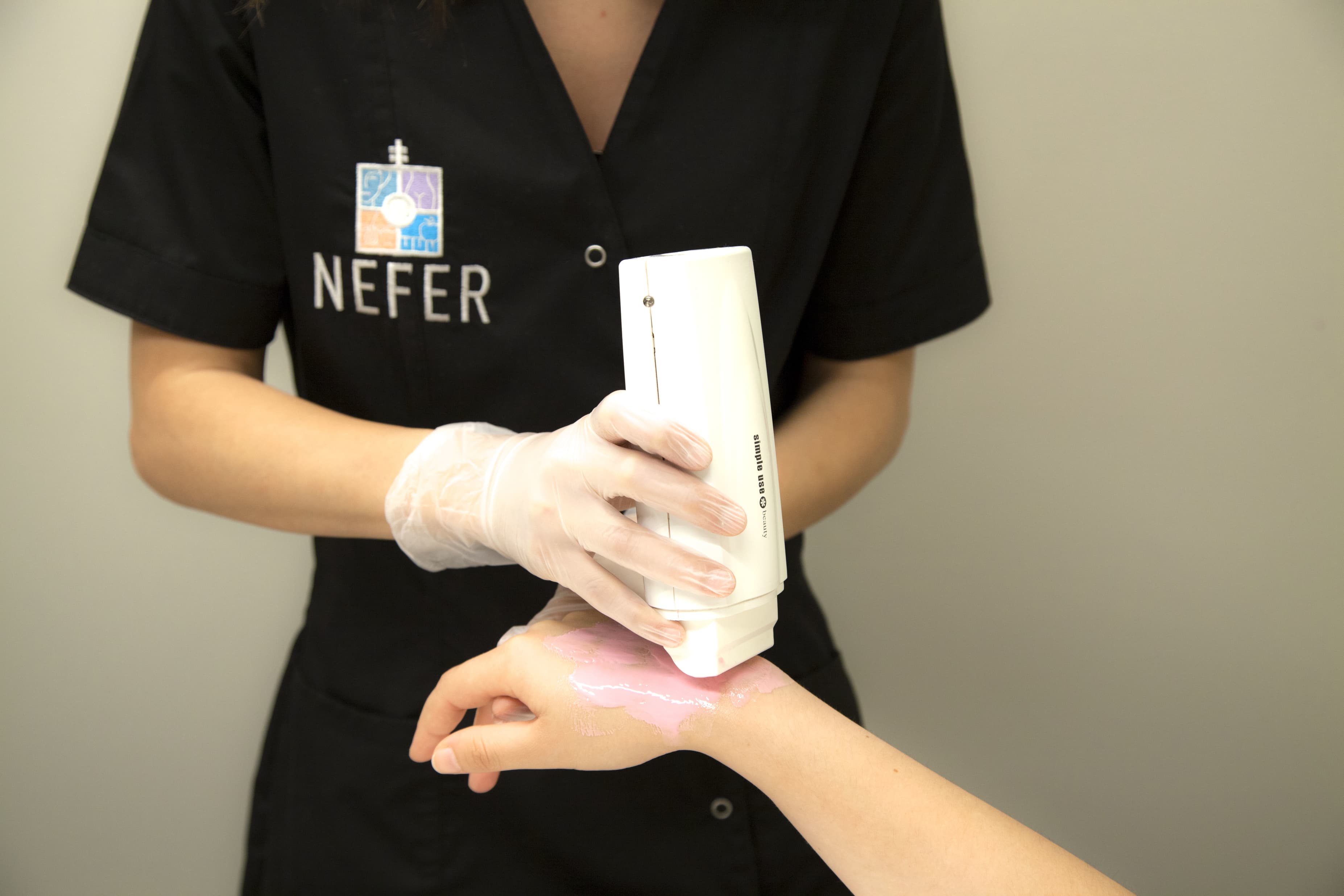 Waxing is suitable for application to non-hormone-dependent areas, such as the legs, bikini or armpits.
The wax we use is made of natural resin and it is applied with a roller and for more sensitive areas, such as Bikini area (especially brazil), we apply Depileve's "hot" or 3G -film wax. Depileve is the global leader in professional hair removal wax.
After waxing, a milk or oil with antiseptic and nourishing properties is applied on the skin.
Tip: In hormone-dependent areas (e.g abdomen, arms, buttocks, waist, face), if you do waxing, you will see your hair grow. In this case, if you do not want to do hair removal with LASER or IPL – ELOS, but you want to remove the hair with waxing but without growing, then you can choose Enzyme hair removal.
BEE WAXING PRICELIST
Eyebrow shaping
8€
Glabella
5€
Legs
29€ / *25€
Calves
12€
Simple bikini
11€
Brazilian bikini (film wax)
15€
Thighs
19€
Armpits
11€
HAIR REMOVAL PACKAGES (WAX/ENZYME)
Leg waxing – simple bikini line (free bikini)
29€ / *25€
Leg waxing – Brazilian bikini line (film wax)
39€
Waxing for calves – bikini line
19€
Calves – Brazilian bikini waxing (film wax)
25€
Waxing for thighs – bikini line
19€
Thighs – Brazilian bikini waxing (film wax))
29€
Waxing for Brazilian – enzyme for hands
29€
Waxing for Brazilian – enzyme for belly (white line to belly button)
19€
Waxing for Brazilian – enzyme for belly
29€
Leg waxing – Brazilian – enzyme for belly or waist or hands
49€
Leg waxing – Brazilian – enzyme for belly and waist or hands
65€
Leg waxing – bikini line – enzyme for belly or waist or hands
39€
Leg waxing – bikini line – enzyme for belly and waist or hands
55€
Enzyme for Face – Eyebrow
35€
Enzyme ½  Face – Eyebrow
25€
Enzyme for Upper lip – Eyebrow
19€ / *15€
Enzym efor Upper – Lower lip
19€
Enzyme for Upper lip – Chin
19€
Enzyme for Chest – belly
29€
Enzyme for back – chest – belly
49€
The * represent the special rates for young people up to 25 years old