Beauty
Airbrush Tanning
In just 10′ time, you can get an even and natural tan in Nefer Beauty Salon & Diet Centre's specially designed tanning cabin.
At Nefer Beauty Salon & Diet Centre, we offer you the airbrush tanning system, which is the next generation spray tanning that is safe.
For a completely safe tan that will fully meet your needs and expectations.
FAST, PERFECT AND NATURAL COLOUR WHILE HYDRATING THE SKIN
Airbrush Tanning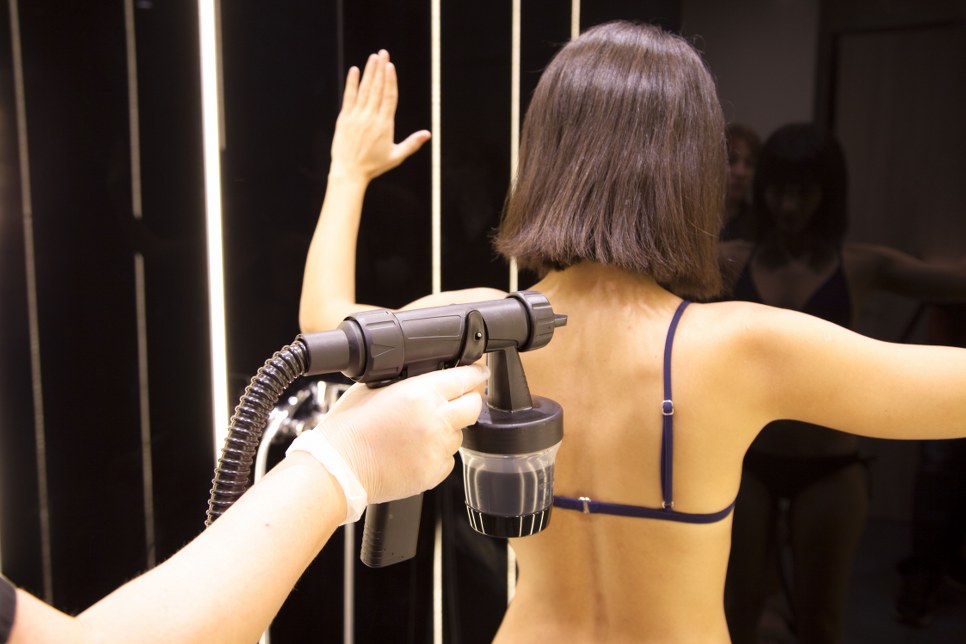 The spray/airbrush tanning systems are totally safe and also more effective. For this reason, their acceptance is extensive and growing both in the USA and Europe.
* Indications/Consequences
Sun
Solarium
Airbrush bronzing
Ageing – Wrinkles
Yes
Yes
No
Change in DNA
Yes
Yes
No
Reduction of skin elasticity
Yes
Yes
No
Xeroderma
Yes
Yes
No
Skin depigmentation
(sun blotches, freckles, spots etc.)
Yes
Yes
No
Hydration (aloe etc.)
No
No
Yes
Addition of vitamins
Yes
No
Yes
* The table above contains widely recognised data from scientific studies.
The airbrush tanning system is the next generation spray tanning that is safe. It offers fast, flawless and natural colour while moisturising the skin.
The active ingredient of Spray tan – airbrush is DHA (dihydroxyacetone). It comes from sugar cane and it is colourless and non-toxic. After spraying the lotion (DHA) with the airbrush, the dead skin cells are oxidized and within the next 6 – 8 hours, the skin "gets" a deep colour, which over the next 7 – 10 days, gradually discolours with the natural removal of dead cells. The lotion is also enriched with moisturising ingredients and essential oils, which enhance and deepen the colour.
What you must do before airbrush tanning
If you have bee waxing, then this should be carried out at least an hour before the airbrush tanning.
One day before, you have to do a peeling on your face and body (you may use a natural sponge for your body). Peeling helps to remove dead cells from your skin and so tanning will last longer.
After peeling, hydrate your skin.
The day of the airbrush tanning, it is better to wear loose and dark-coloured clothes.
What you must do after airbrush tanning
Bathing is not allowed for 6 – 8 hours.
After 8 hours, you can have a shower and for the following 10 days, you should not scrub your skin with a sponge or towel.
After the shower, a hydrating cream helps the tanning to last longer.
---
Duration of tanning:
7 – 10 days (it depends on skin quality and care).
Redo frequency
After the 1st session, we recommend that you have a 2nd session after 3 days. Following the 3rd visit, it should be repeated every 10 days.
Cost: 1st session: 29€*
If repeated after 3 days: 21€
Offer: in 4 sessions, the 5th FREE OF CHARGE (with a frequency of application every 10 days)
Duration of session: 15′ – 20′