Hair Removal
Diode LASER
Get rid of unwanted hair growth and bursitis, quickly and painlessly, with LASER hair removal.
• LASER Αlexandrite is more suitable for light skin.
• Diode LASER is more suitable for darker or tanned skin.
The right choice of LASER or IPL system is mainly based on:
• skin colour
• hair color and size
• of the area to be depilated (androgen-dependent or not area)
For body hair removal, sometimes the combination of the two LASERs is suggested for optimal results.
For face hair removal, we mainly combine IPL – ELOS, Diode LASER and if there is blond or white hair, we also combine Electric Hair Removal with a needle.
LASER hair removal technology is constantly evolving and improving in terms of safety and effectiveness for all skin types.
At Nefer Beauty Salon & Diet Centre
we provide all the methods of IPL hair removal, with the safest and newest machines on the market (LASER Alexandrite by Candela, Diode LASER by Soprano, Aurora ELOS by Syneron), operated by our Beauticians, all graduates of the Technological Educational Institute!
Can be applied even during the summer months. Stay Cool, Calm and Comfortable!
LASER Hair Removal - Diode by Alma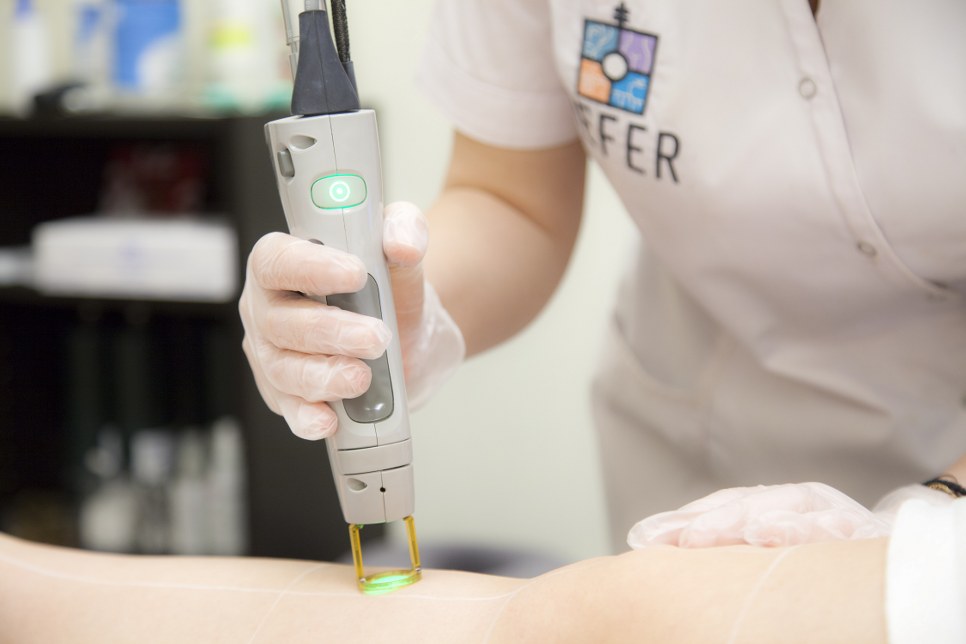 The Diode LASER Soprano Beauty Remove, of the American company ALMA Beauty, combines the technology of the Diode LASER with the patented SHR technology. It provides an effective solution for permanent hair removal, leaving a silky and smooth skin.
Quick and comfortable hair removal with LASER Soprano Beauty Remove
No Pain – All gain
Effective, safe, reliable*
For every Phototype* (skin color) and area
It is applied 365 days a year. Even in summer and on tanned skin*
No recovery time required. You return immediately to your daily activities
*Evidence from many well-designed clinical trials.
What is the Diode LASER?
Diode LASER emits monochromatic light with a wavelength of 810nm. It produces a long wavelength, making it act deeper, avoiding melanin on the surface of the skin, so we achieve less skin absorption and no burns.
The LASER energy is selectively absorbed by the melanin of the hair, it is led to its root causing the destruction of its regenerative cells.
It is suitable mainly for skin types IV to V, ie for those who have dark skin and tan easily from the sun. It is also applied in the summer months on tanned skin or on people who do sports in the sun and are tanned all year round. It is safe and effective all year round.
Can it be applied on dark skin or in summer months?
If a skin is exposed to the sun, Diode LASER, with the SHR system, is less traumatic to the skin. You can enjoy the sun and swimming in the sea right after the session.
However, this does not mean that you are allowed to burn out in the sun and then have LASER hair removal or go straight to Solarium after Solar LASER
How many sessions are required?
Hair on non-hormone-dependent areas (legs – bikini – armpits – eyebrows), disappears on average in 8 sessions. The frequency of the visits are as follows: the first 2 – 3 sessions every 1 or 1.5 months and the remaining ones every 1.5 to 2 months, i.e. when hair appears again.
For hair on hormone-dependent areas (face, midline of chest, chest, abdomen, back, buttocks), more sessions are required. In this case, due to pregnancy, menopause, weight change, medication, various hormonal disorders, we have the following possibilities:
Hair loss may occur, but it may recur at some point in the future (not necessarily with the same intensity).
Hair may not be completely eliminated, but it may be reduced by 50% – 80% and dark hair may be much thinner. In addition, intervals between hair growth may extend.
For example, if we have a lady or girl with black hair on the face or abdomen, who removes it with wax or tweezers every 15-30 days and leaves a gray shade, with redness on the skin and finally with LASER hair removal, hair becomes fluff and needs waxing 3 times a year, with no scars on her skin, then this is a successful hair removal for a hormone-dependent area.
Is hair removal with Diode LASER really permanent?
Diode LASER hair removal is permanent hair removal for non-androgen-dependent areas of the body.
That is for:
Legs
Bikini line
Armpits
Eyebrows
All other areas (abdomen, chest, waist, back, face, hands, buttocks) are affected by androgens and we cannot talk about permanent hair removal, but about reducing and improving hair growth.
More specifically, when there is a hormonal disorder (e.g. increased androgen, ovarian and uterine diseases, adrenal and pituitary diseases) there is an increase in hair growth mainly on the face, buttocks, abdomen etc.
When this happens, we recommend regular monitoring by an endocrinologist in order to regulate the endocrine problem.
However, in most cases, male hormones (androgens) are secreted at normal levels for the opposite sex, but hair follicles are sensitive to male hormones (androgens) and eventually hair growth is observed.
An additional positive that Diode LASER hair removal has, is that in androgen-dependent areas, there is no chance of worsening the hair growth in the area of ​​application and it does not worsen the hair growth in the fluff, for this reason we strongly recommend it, for the annoying, dark , facial hair growth.
LASER hair removal is not suitable for the following cases of hair growth:
For blond hair and bloom. There is not enough hair melanin to absorb the energy of the LASER and reach up to the root in order to destroy it.
Is hair removal with Diode LASER, Soprano Beauty Remove painful?
The head of Diode LASER, Soprano Beauty Remove, has a cooling system with Sapphire, which reaches temperatures up to -3 degrees Celsius.
The Sapphire cooling system has the following advantages:
It makes the session painless, since most of the time you feel the cold head and not burning.
It reduces the risk of burns.
How safe is the Diode LASER method?
The safety and effectiveness of a LASER hair removal system depend on the quality of the appliance used, but mostly on the person handling it as well as on whether the system is properly maintained.
At Nefer, we follow all the rules:
Hair removal is done exclusively by beauticians, graduates of theTechnological Educational Institute of Athens, who have been taught how to carry it out safely in the course of their studies, knowing how to act, all LASERS as well as ways of protection and we are legally allowed to apply them safely..
Diode LASER Soprano Beauty Remove is manufactured by the American company ALMA, which is one of the best LASER manufacturers. This particular LASER uses patented SHR technology.
With SHR (Super Hair Removal) technology, the beautician repeatedly moves the head of the LASER on the area where hair removal is done (in motion technique).
This results in:
1. full coverage of the area, leaving no gaps due to continuous head movement and repeatability.
2. the gradual heating of the skin, thus minimizing the risk of burns. This makes it safe and effective, even for dark or tanned skin, regardless of skin phototype – color.
The skin is not exposed to a single pulse, with high thermal energy, which can injure the skin. To protect the surrounding skin area, we use small, multiple pulses with low thermal energy, until it is produced and accumulated on the selected area, while the appropriate temperature that causes the thermal destruction of the hair follicle prevents it from growing again.
Can Diode LASER fight bursitis?
Whichever LASER Hair Removal System you choose, you can treat bursitis. Bursitis occurs to some individuals following hair removal using a razor or wax. Subsequent to this, hair rolls back into the skin irritating the hair follicle. As a result, the area around each hair follicle turns red and may show pimples, dyschromia or scars on more sensitive skin. So when undergoing LASER for permanent hair removal, the factor that irritates the hair follicle is eliminated too, leaving the skin smooth without redness or a "grey" shadow under the skin.
How long does a session last?
Sessions last from a few minutes up to 1 hour, depending on the area to be applied.
Indicatively, we list the duration required for some areas when Diode LASER hair removal is applied:
| | |
| --- | --- |
| Area of application | Duration |
| Legs | 60′ |
| Legs – Bikini line | 90′ |
| Armpits | 10′ |
| Simple bikini | 20′ |
| Brazilian bikini | 30' |
| Back | 45′ |
How the treatment is done
We clean the area of any traces from make-up, perfume or deodorant.
We mark the area under treatment.
We have the hair cut.
We apply an ultrasound gel.
We apply the Diode LASER.
We apply a soothing cream.
We apply sunscreen
You are not allowed to have LASER:
If you are taking any medications that cause photosensitivity.
If you have taken anti-inflammatory drugs during the last week (mesulid, voltaren, ponstan).
If you appy topically Tretinoin or Retinol.
If you are undergoing acne treatment with isotretinoin.
If you have have a tatto or permanent makeup on the application area.
If you have vitiligo (there is a possibility that it will be triggered).
If you are pregnant.
If you have a sunburn or gone to the solarium.
If you want to go for sunbathing just after hair removal with LASER Soprano Beauty Remove.
What to look out for before your session with Diode LASER?
If the skin is burned (from the sun or solarium) you have to wait until the burning subsides.
If using self-tanning creams or you tan using an airbrush, you must stop their application 15-20 days before the hair removal with LASER Alexandrite.
Do not have your hair decolourised or waxed 4-5 weeks before and after the sessions.
You may have the hair shaved on your body 1-2 days before the session (following consultation with the beautician).
What to look out for after your session with Diode LASER?
You should use sun cream, renewing it on a regular basis (every 1-2 hours).
Avoid intense exposure – sunburn or solarium. After 3 days, you can sunbathe.
Do not use deodorant for 24 hours (when doing LASER on the armpit).
Do not rub the area with peeling or a rough sponge
Do not pull hair with wax or tweezers.
Immediately after Diode LASER hair removal, the area may turn pink or red and blotches may occur, which is expected and quite normal. This can last from several hours up to 2-3 days.
Other information
Hair that we have had cut before applying Diode LASER does not lengthen (as it would if we did not have LASER) and it finally falls 15 – 20 days after the session. It does not cause thinning hair, like LASER Alexandrite.
If hair appears before the next session, shaving is allowed in the area.
If you follow any medical treatment, you should inform your beautician – when completing your history – because some medicines can make your skin photosensitive while you take them.
Side Effects
It is generally a safe method. There are no side effects if you follow the above tips.
At Nefer Beauty Salon & Diet Centre, before starting a hair removal treatment with LASER, we always discuss your expectations with you and solve any questions you may have. We will inform you about the rough number of sessions required and at what frequency.
In some cases and particularly on hormone-dependent areas i.e. the face, back and belly, a combination of hair removal methods is required, such as Diode LASER and the electric hair removal for white or very fine hair that does not have enough melanin to absorb the energy from the LASER.
See the Video about permanent hair removal, using Diode LASER
LASER Diode packages at affordable prices

Area of application
Initial price
Offer
Legs & Armpits & Simple Bikini Line & Upper Lip
From 230€
180€
Legs & Armpits & Brazilian Bikini Line or Hands & Armpits or Upper Lip
From 250€
210€
Armpits & Brazilian Bikini Line
From130€
90€
LASER Diode PRICE LIST

Area of application
Initial price
Offer
Minimum session
From 30€
20€
Glabella
From  30€
20€
Eyebrow
From  40€
30€
Ears
From  30€
–
Nose (nostrils)
From  30€
–
Upper lip
From  40€
30€
Chin
From  50€
40€
Face
From  70€
50€
Cheeks
From  50€
40€
Cheekbones
From  60€
50€
Bikini Line for swimsuit
From  40€
30€
Simple bikini
From  50€
40€
Brazilian bikini
From  80€
60€
Legs
From  150€
130€
Legs – Simple bikini line
From  180€
150€
Legs – Brazilian bikini line
From  200€
180€
Calf
From  90€
70€
Hips
From  70€
50€
Thighs
From  100€
80€
Belly (small area)
From  40€
30€
Belly (large area)
From  70€
50€
Waist
From  70€
50€
Hands
From  80€
60€
Hands 1/2
From  65€
45€
Breast (nipples)
From  40€
30€