Facial Care
Neck – Chest care
Neck & chest are among the neglected body areas because you often neglect their care. However, it is one of the most exposed areas to the sun and generally the environment, so you should not forget that it is an extension of your face and they need the same care, since their lack of care will betray your age later.
Over the years there appear: Double chin due to increased fat in the area, spots – sun blotches due to sun exposure, wrinkles on the sides of the neck, the chest and just below the neck.
At Nefer Beauty Salon & Diet Centre, Neck & Chest treatments are different from facials because we take into account some differences they have compared to the face, such as that the neck has reduced sebaceous glands and the chest is one of the most exposed areas.
by Medik8
Deep Anti-Ageing Peeling for Neck and/or Decollete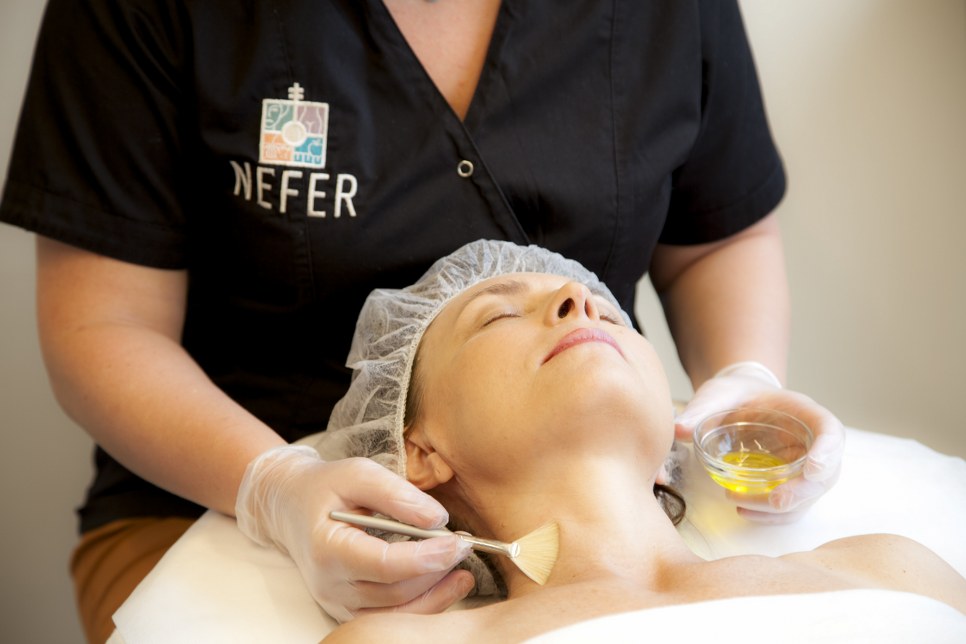 An effective treatment properly designed to rejuvenate the delicate neck and chest area. The Neck and/or Chest Anti-Ageing Peeling consists of a mild combination of acids (mandelic, lactobionic and lactic acid) that help to exfoliate and renew the cells, reducing fine lines and wrinkles on the neck and chest and improving the general state of the skin.
Treatment suitable for the following skin conditions:
Sagging skin on the neck
Dull skin
Fine lines and wrinkles
Early ageing
Photoaging
Treatment stages
Use of a special cleanser, based on exfoliating fruit acids, soap-free and skin-irritating sulphates.
Application of a skin resurfacing serum on neck and/or chest.
Application of a solution with acids suitable for the sensitive and delicate neck and chest area.
Μandelic acidis a mild but effective acid for exfoliation in the sensitive area of ​​the Neck and Chest.
Lactobionic acid, in addition to exfoliation, provides anti-oxidation without dehydrating the skin.
Lactic acid has a whitening effect to reduce hyperpigmentation (sun blotches).
Application of a Booster with vitamin C or vitamin A (retinol) for anti-oxidation, firming and hydration.
Antioxidant – Anti-wrinkle mask
Moisturising – Regenerating cream & sun protection
---
Information you need to know after a Peel session
Mild redness and skin irritation may occur after the session.
Mild exfoliation can occur the day following the Peel and may last for 1 – 4 days.
You can resume your normal activities immediately. The skin does not need downtime.
For the treatment to be comprehensive, it must begin with the appropriate soothing products at home at least 10 days in advance and  it continues during the sessions at Nefer Beauty Salon & Diet Centre.
After the sessions, the results are maintained at home with the appropriate products recommended by the Nefer Beautician.
Although you should always wear sunscreen on your face, neck and chest, especially for Peel sessions, you must wear sunscreen. In particular, sun exposure should be avoided 10 days before the treatment and for 1 month after the last session
Medik8's Facial & Body Treatments have been carefully curated to reshape your skin. What makes Medik8's treatments qualitative and distinctive are:
Immediate and visible results
Zero recovery time
Minimal skin irritation
Maximum power formulas
Bioavailable products
Peels are packaged in single doses so their composition stays unchanged
Products are Paraben-free and no preservatives are added.
Cost:
Neck & Chest Anti-Ageing Peeling: 69€
Anti-ageing Peeling for Neck or Chest: 49€
Duration of session: 50'
Offer: In 4 Peeling sessions, the 5th FREE OF CHARGE
Number of sessions: 4 – 6 sessions
Frequency: every 7 – 14 days
Metatherapy
Natural lifting for Neck and/or Decollete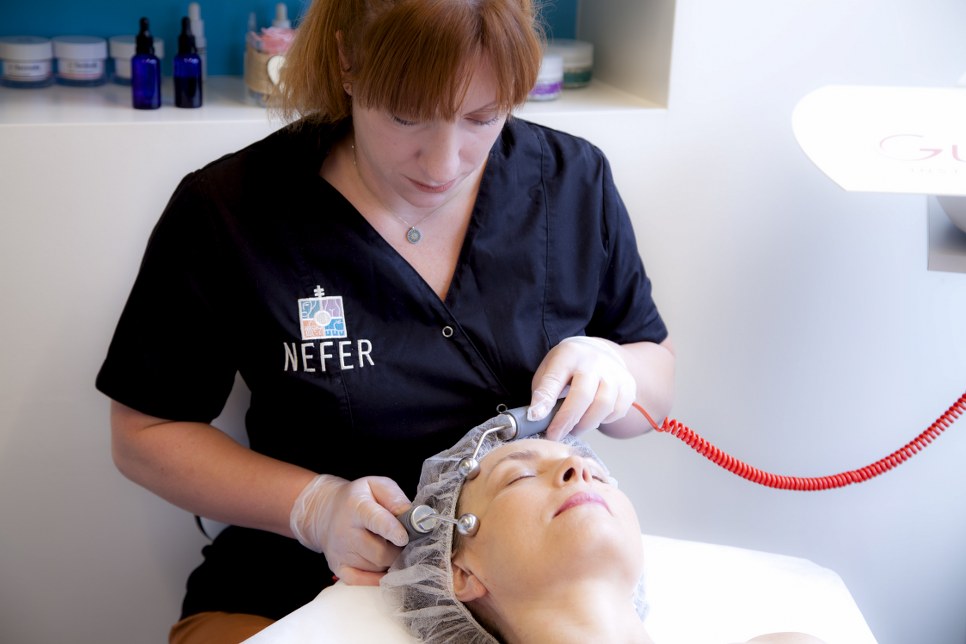 Turn back the  time in a 100% natural way to give your neck or chest a fresh, youthful look with Natural Lifting, Metatherapy.
MetaTherapy is a safe invasive anti-ageing treatment for Neck and Chest that requires no recovery time.
We use a Dutch-made digital appliance on the point of which there are heads with thin needles, so that we can create tiny perforations on the skin.
This is a double treatment because:
– The skin perceives these invisible tiny perforations as injury and activates its natural healing mechanism, resulting in the production of collagen and elastin and so it is restored from within.
– Under the skin barrier we also apply active ingredients in single doses, such as hyaluronic acid, A, C and E vitamins for anti-oxidation, chosen depending on the skin's requirements. Because the skin barrier is being perforated during this treatment, the active ingredients used are applied directly in the depth where their action is more effective.
Results
Younger and fresher look using a 100% natural method
Lifting result
The skin becomes firmer and recovers its elasticity.
Thin lines and wrinkles are visibly reduced.
Pores become thinner.
It boosts blood circulation.
Skin's general condition is improved.
In order to meet everyone's individual requirements, Meta Therapy uses 3 different types of needles. For your safety and hygiene, all needles are unique and disposable.
Why choose Dermatude Meta Therapy?
It is 100% natural.
It is an alternative lifting.
It is an opportunity to get an invasive anti-ageing treatment. for neck and chest
It is the most innovative anti-ageing treatment. for neck and chest
It has very good results.
It can be applied to several different skin areas.
It is affordable.
It has double effects
on the inside tiny perforations stimulate skin regeneration
on the outside single doses of active ingredients penetrate into skin's deeper layers.
It ensures the right depth.
It provides a safe anti-ageing treatment using disposable antiseptic heads.
No follow-up treatment required
Contra-indications (for the area of application)
Active acne
Ichthyosis
Facial nevi
Dermatological fibroma
Melanoma
Ehler – Danlos syndrome
Herpes – Herpes zoster
Hemangiomas
Cheloids
Diabetes
VIDEO – Why Dermatude is effective
For more information, visit Dermatude's official site at  https://www.dermatude.com/el/
Note: The results of the anti-ageing treatments for neck and chest are supported by Dermatude after care special creams to use at home and which complete the treatment. These creams have been designed to be compatible with the MetaTherapy treatment and contain the appropriate active ingredients in order to prolong the treatment's results. One week after the preservation treatment is completed, you may use other face care products.
| | | |
| --- | --- | --- |
| Cost | | |
| Area of application | Cost | Gift |
| Neck or Chest | 59€ | in 7 sessions, the 8th FREE OF CHARGE |
| Neck & Chest | 79€ | in 7 sessions, the 8th FREE OF CHARGE |
Frequency:
6 – 8 sessions are necessary to get the best results
A single anti-ageing MetaTherapy treatment is not enough to achieve immediate visible results. For this reason, you can start with an initial plan performed as follows:
Month
Frequency
No. of sessions/month
1st
1 session / week
4
2nd
1 session every 2 weeks
2
3rd
1 session every 2 weeks
2
Preservation: 1 session every 4 to 6 weeks
| | |
| --- | --- |
| Treatment | Duration |
| Neck | 15΄ |
| Cleavage | 15΄ |
| Deep wrinkles | 10΄- 15΄ |
| Fine wrinkles | 10΄- 15΄ |
| Scars – Marks | 10΄- 15΄ |
Non surgical neck lifting
Neck Skin Tightening with Plasma Pen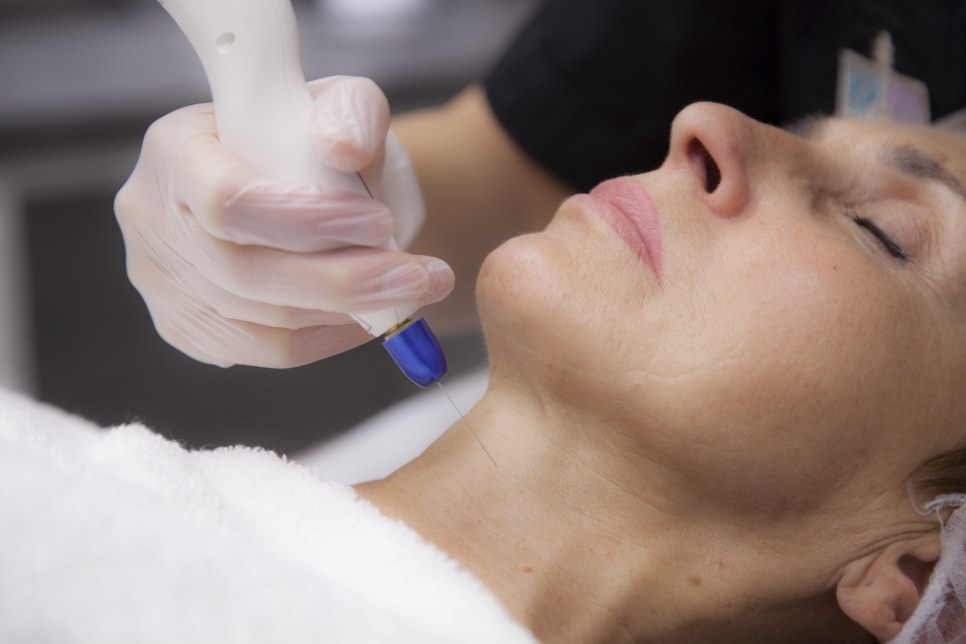 Plasma Pen is a new generation device used to improve skin imperfections and boost collagen production, resulting in a firmer-looking eye neck.
The device ionizes nitrogen from ambient air and creates a micro-electric discharge or plasma "arc", used for aesthetic purposes. Treatment is non-invasive. The "arc" never touches the skin, but it is positioned about 1mm above the skin. It causes a superficial "micro-trauma" on the eyelids. This is known as Fibloblasting, which is the activation of its natural healing mechanisms, without adversely affecting the surrounding tissue.
Plasma Lift Pen Face Tightening, offered at the Nefer Beauty Salon & Diet Centre, produces real Plasma and not just electricity. This is important, because the skin-created burn from the Plasma arc is controlled, superficial, targeted and it works exactly where we want to intervene to regenerate the skin and not deeper.
During the session, the tip of the Plasma Pen needle remains cold.
The skin is treated through the arc created.
Results:
It reduces wrinkles and provides a lifting effect for the neck.
It tightens the sagging skin of the neck.
It removes skin irregularities in the neck area, caused by premature ageing and ageing in general.
What is plasma?
Plasma is one of the four fundamental states of matter, while the other three are the following :
Unlike the last three states of matter, plasma does not naturally exist on earth under normal conditions and can only be produced artificially from neutral gases.
How is the treatment applied?
The device has a pointed end, which during the session approaches the eye skin and just before touching it, the plasma "arc" (like a small lightning bolt) is created between the skin and the end of the device.
The arc is small and controlled. It leaves small, superficial burns on the skin of the neck, which last for 7-10 days.
Is the treatment done all over the face?
Neck lifting with the Plasma Pen is applied to the entire neck or to a smaller part of it where there are wrinkles and sagging skin.
If one wants to proceed with a Plasma Pen Lifting on other areas of the face, they can, but never on the same day with the neck, because we have to leave the skin the necessary time to heal and produce collagen, without shocking the body.
For example, we would treat the neck area separately and at the next session, usually after 20 – 30 days, we would do the forehead or eyes.
Should the skin be prepared before the Plasma Pen session?
For the best response to Neck Lifting treatment with Plasma Pen, we prepare the skin to produce healthy collagen & elastin.
We suggest:
An acid Peel 15 days before the Plasma Pen session, suitable for the neck area
An eye hydration treatment 2-3 before the session
In addition, at least 15 days before, the client should start applying products that enhance the function of the skin at home. Such products mainly contain ingredients with Vitamin A, Vitamin C, Peptides, suitable for the eye area.
Following the Palsma Pen Neck Lifting session, what care should be taken and what should be avoided?
Sunbathing & solarium are not allowed for 3 months (sun protection is a must during this time). Especially for the neck, the area may also be covered with a scarf.
Cleansing of the area & use of saline solution twice (2)/day
Application of a regenerative cream until the crusts subside (7- 10 days)
Use of sun protection for 3 months
As long as there are crusts on the neck, the use of sauna, sweat sports and cosmetic treatments (especially invasive ones) are not allowed.
The only treatment that can be applied at Nefer Beauty Salon is the Anti-oxidation with negative oxygen ions – Dermionologie Facial – Weyergans (it can be applied immediately after the session to enhance healing & regeneration of the skin).
After the Neck Lifting session with Palsma Pen, what will the skin look like?
Mild swelling (first 3 days)
Creation of a crust in the form of spots (it is more evident after 1 – 2 days and subsides after 7 – 10 days). The client should not pull them out.
Redness for 2 – 8 weeks (it appears after the crusts have gone).
Contra-indications
Pregnancy
Metallic inserts in the face
Epilepsy
Cardiac pacemaker
Skin lesions
Local inflammation
Unregulated diabetes
Acute inflammation
Treatment stages
Cleansing of neck area & antisepsis
Application of a local anaesthetic cream for 30′
Use of Plasma Pen device
Regenerating & sun protection cream
| | |
| --- | --- |
| Cost |   |
| Application area (one area / session) | Cost |
| Neck | 150€ |
| Neck (1/2 area) | 100€ |
| Whole neck area (with Lifting heads – no irritation created – milder lifting effect) | 80€ |
Duration of session: 40' – 60' (depending on how long  the local anaesthetic stays on the skin)
Number of sessions: 1 – 4 sessions (depending on the age and overall appearance of the skin)
Frequency:
1 session / 2 – 3 months (only when redness recedes)
For a different application area: within 20 – 30 days of the other session with Plasma Pen
Photoregeneration & Radiofrequencies
Whitening - Skin tightening for Neck and/or Decollete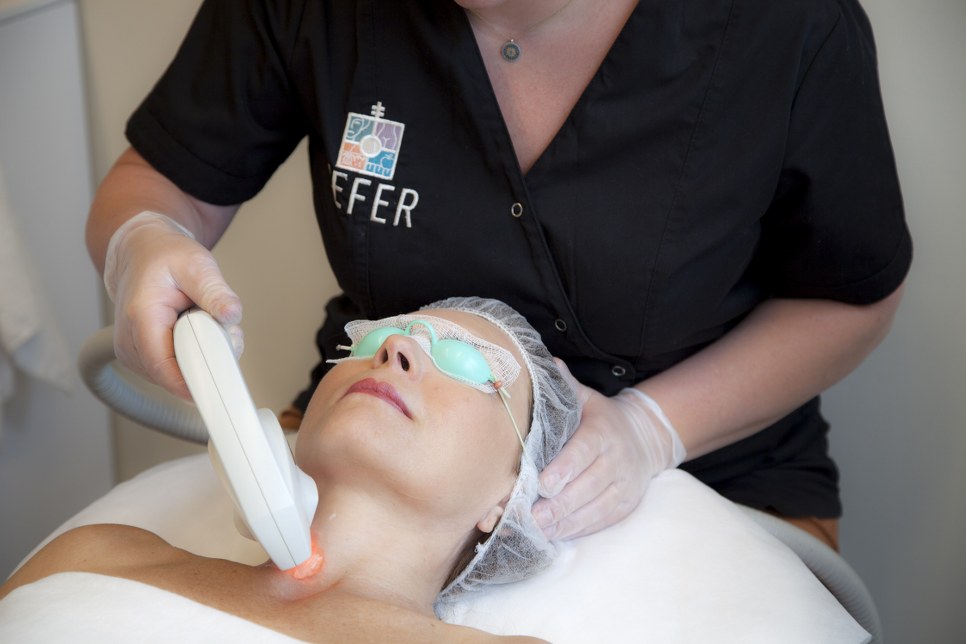 At Nefer Beauty Salon & Diet Centre, we apply Photoregeneration with the ELOS SR technology (a combination of Pulsed Light and Radiofrequencies) to restore photoaged skin on the neck and chest and give you a youthful looking skin back.
How does Photoregeneration bring back a youthful looking skin for the Neck and Chest?
It utilises the technology of two different energy sources. light energy which is the pulsed light or IPL and electrical energy which is the RF or radio-frequency. This technology is called ELOS (Electro Optical Synergy) and makes the treatment more effective.
Increasing the temperature created by the 2 energy sources activates the production of collagen and elastin. It also targets the capillaries and the melanin, which creates the brown marks / hyperpigmentation of the neck and chest, leaving the rest of healthy skin intact, from the surrounding area.
Following a series of 5 – 6  sessions:
Red spots improve by 60% – 70%.
"Broken" capillaries recede by 75%.
Sun blotches (pigmental spots) decolourise by 80% – 90%.
Fine wrinkles on neck and chest improve by 40% – 60%.
Deeper wrinkles improve by 20% – 40%.
Is Photoregeneration with Aurora safe?
Photoregeneration is very safe for the skin. There are many advantages in the technology used by Aurora, which make it extremely safe for the skin, while at the same time it is very effective. There are no long-term health problems caused by the light or electrical energy used by Aurora. Both forms of energy have been used by medicine, surgery and aesthetics for decades without problem.
Who needs photoregeneration?
Anyone who wants to improve the signs of ageing or photo-ageing (brown marks from the sun) and vascular lesions, as well as rough skin texture. Skin rejuvenation using photoregeneration can be applied to your face, neck, chest, hands and arms.
What time of the year is appropriate for Photoregeneration?
Photoregeneration is done exclusively in Winter, on skins that are not tanned. This ensures that no side effects are created after the session.
It is also not for people who do winter sports (open-air swimming pools, winter swimming) and generally for those who do winter sports and their skin is exposed to the sun. Moreover, it is not permitted for those with photosensitivity.
What will the skin look like on the neck and chest after just one session?
After 2 to 4 sessions, you may feel a heating effect on the area of application, such as the feeling we have after a mild sunburn.
If besides sagging skin and wrinkles, there are spots, then the spots will initially darken and fade within 1 – 2 weeks.
Cost:
| | |
| --- | --- |
| Neck or Chest | 60€ |
| Neck & Chest | 70€ |
Duration of session: 20' – 30'
Number of sessions: 4 – 6 sessions
Frequency: 1 session/month
RF
Tightening for Neck and/or Decollete with radiofrequency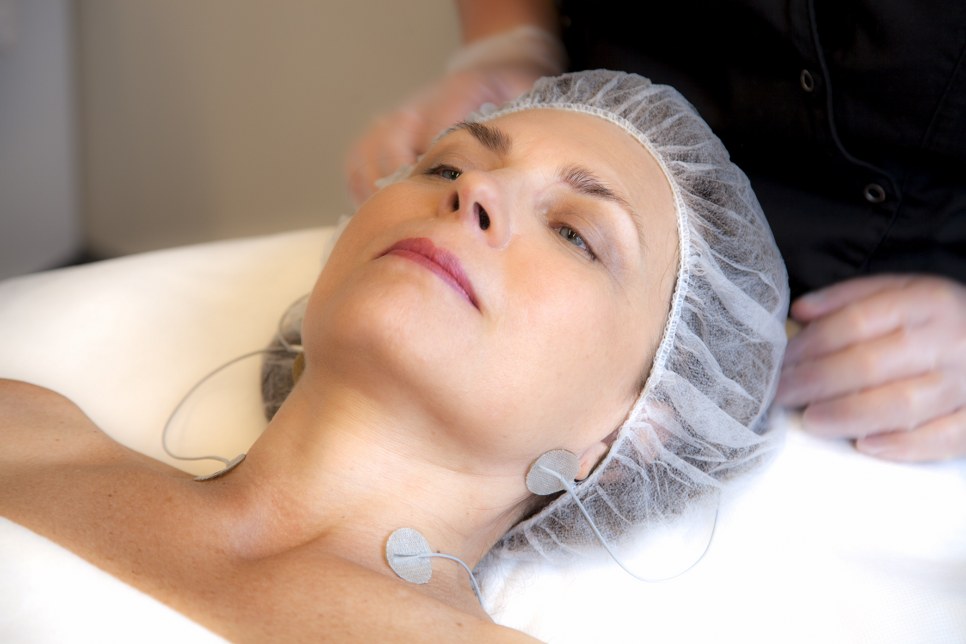 For skin tightening of the Neck and Chest, you can choose electrotherapy with interpolating currents. The process is painless and pleasant. The currents improve blood flow to the area applied, and thus oxygen uptake. This results in the improvement of the oval face in the neck area and skin tightening of the chest. It also achieves lymphatic decongestion, thus improving facial swelling.
Electrodes are placed on the neck or the chest to cover the area where we want the interpolating currents to work and then we select a special program for the neck and chest area.
Cost: 45€
Duration of session: 50'
Number of sessions: 6 – 12 sessions
Frequency: 1 – 2 sessions/week
Cosmodyn
Tightening for Neck and/or Decollete with electrotherapy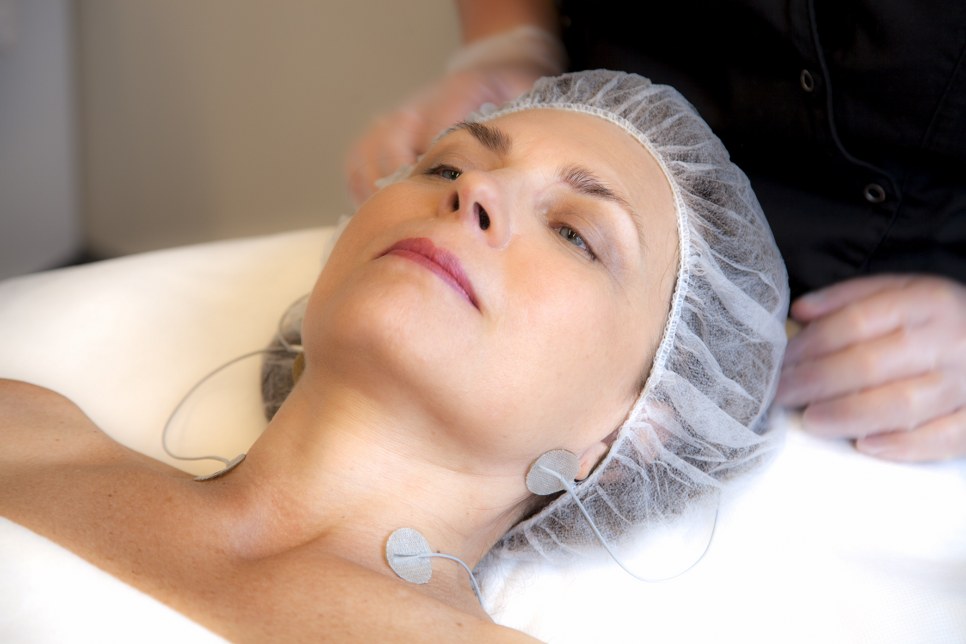 Radio-frequencies RF is a painless, non-invasive treatment for skin tightening, firmness and improvement of the neck and/or decollete.
The session is quite pleasant as the client feels a gentle warm massage from the radio-frequencies head.
Radio-frequencies RF penetrate the deeper skin layers, causing their gentle controlled heating. This gentle and controlled "damage" stimulates fibroblasts to produce collagen and elastin.
Διάρκεια
Κόστος
Face
20′
20€
Neck
10′
15€
Decollete
10′
15€
Face & Neck
30′
30€
Αριθμός συνεδρίων: 6 – 12 sessions
Συχνότητα: 1 – 2 sessions/ week